Cabins and homes
Larger cabins and homes for year round dwellings can be virtually any design. We manufacture to order, and to meet local building code requirements for wind and snow loads. For increasing wall heights, adding roof purlins or changing roof slopes the simplicity and versatility is unmatched.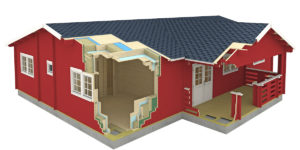 This all natural construction is efficient, and has virtually no waste. Home packages are delivered to site with components pre-cut. Assembly is simpler that conventional construction, reducing labor costs. With the combined thermal mass of a solid wood wall and the insulation, the energy efficiency has unmatched value.
The result, a beautiful building, all wood exterior & interior ready to enjoy.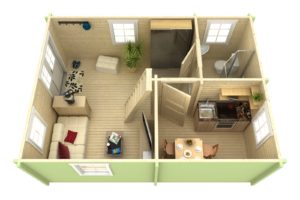 Complete pre-cut kits ready for assembly
All wood interiors & exteriors
Choice of four wall thicknessess
Do-it-yourself
Best value available
Insulated design
About Us
Tene of Estonia is Europe's leading producer of interlocking building kits. With production capacity exceeding 28,000 cabins annually, we offer the best quality, selection and lead times worldwide. To ensure prompt delivery an inventory of over 1500 pre-packaged buildings are ready to ship on demand. Each building is manufactured using kiln dried northern spruce, considered one of the most stable woods for log construction. All trees are harvested from ecologically managed forests in Estonia and the surrounding regions.
EZ Log Structures are manufactured by Tene of Estonia, the first Europeon producer of log building kits to develop an international dealer network outside continental Europe. Exports began in July of 2011, when the first North American dealer was established. Since then our unique building kits have captured the interest of numerous retailers, mfg home & RV dealers, fireplace & hot tub stores, builders, landscape firms, trailer & shed companies & building supply centers.

Our product addresses three distinct categories: GARDEN HOUSES, CABINS & AFFORDABLE HOUSING. With endless sales potential, EZ Log Structures are the ideal addition for any business looking to diversify with a new and exciting product. Our retail network is growing extensively throughout Canada, Australia and the United States and we invite your inquiry.
Warehousing & Distribution
Texas – USA; Kentucky – USA; Ontario – Canada