Baltimore 2 – IN STOCK
121,490.00 CAD
Cabin size

526" x 341"

Area

1245 ft2

Roof pitch

5/12

Roof boards

3/4"

Single door

980x1995 (38.5"x79") x 2

Window

530x530 (21"x21") x 2

Side+tilt and turn opening

1530x990 (61"x39") x 6

Wall height

101"

Ridge height

144"
Insulating Wiring Construction (PDF)
Loading and Unloading (PDF)
IN STOCK – ready to ship
FREE SHIPPING – some exceptions may apply for more remote locations
The Baltimore 2 is a solid wood home using 68mm (2-5/8″) thick wall logs. Kits are in stock and ready to ship with transit times of about 7 weeks from confirmed order date. The kit is delivered ready to mount on a concrete slab or wood floor over a crawlspace or basement. This model has 1245 sq' with 4 bedrooms, large open living space and 101″ high walls with a vaulted ceiling throughout.  The purlins are double stacked and spaced 24″ on center or less and includes our exclusive NEW PVC oak woodgrain, double glazed LOW-E maintenance free windows. These unique windows come with an exterior rolling shutter that is controlled from the interior, providing added security, improved insulating qualities, reduced noise & complete darkness for extended sleeping. View the window video on the video section.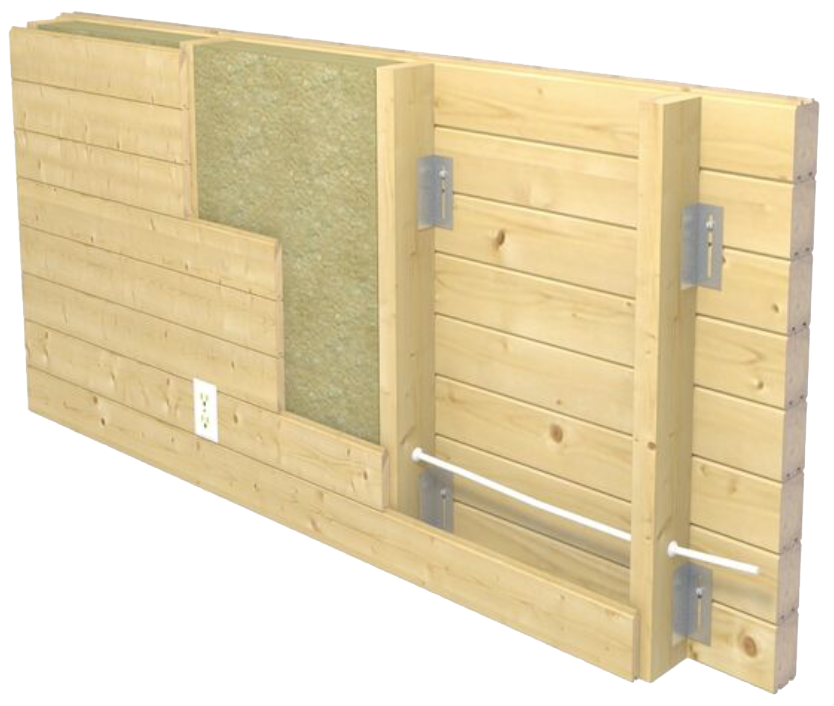 Insulating kit add 10%:  Adding insulation is required to meet most building codes. Attach studs to the interior of the log wall using metal brackets; insulate, wire & cover the wall using tongue & groove wall cover boards. Kit includes brackets & 3/4″ tongue & groove wall cover boards.
OPTION: apply studs on the outside, insulate & wire then cover the exterior with locally purchased maintenance free siding of your choice. In this case the foundation should be 8″ larger each direction.
The solid wood log has a thermal mass rating of R-12….. add R-15 insulation to achieve exceptional energy efficiency of R-27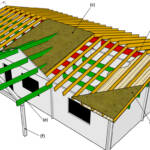 Insulating the roof:  Using local materials rafters are installed over the tongue & groove roof boards. The size of rafters depend on the R-value required to meet local codes. Insulate & apply metal roofing or shingles. High density spray foam provides the highest R-value for thickness & makes the roof  water proof
Tip: Mineral wool  insulation is recommended. It's impervious to moisture, has a higher R-value per inch than fiberglass, reduces noise levels, is rodent & pest resistant plus it's an environmentally friendly insulation
The Baltimore 2 can be assembled in 12 days with 3 people & passes structural requirements for building codes.
Kit includes:

no floor ready to assemble on a concrete slab, wood floor over piers, crawl space or basement
pre-cut, numbered exterior walls
pre-cut, numbered interior walls
pre-cut, numbered gable components
vaulted, cathedral ceilings
pre-cut, numbered roof purlins, beams
pre-cut, numbered (18mm) +or- 3/4″ tongue & groove roof boards
pre-cut, numbered fascia boards
prebuilt sectional deck railings, vertical balustrades, handrail, adjustable posts
PVC oak grain maintenance free windows c/w exterior rolling shutters, heavy duty tilt & turn hardware
window boxes 6.88″ (175mm)  deep to accommodate  fully insulated wall thickness, includes interior & exterior trims
2 wood entry doors, locks, deadbolts, keys, trims 38 1/2″ x 79″
6 interior doors, hardware, trims 33 1/2: x 79″
7 -1/4″″ log screws to connect log rows, gable components, purlins
spare wall logs/spare roof boards
CALL 800-652-1065