Banff
33,736.00 USD
Cabin size

242" x 364"

Area

612 ft2

Roof pitch

7-12

Roof boards

3/4"

Wall height

95"

Ridge height

168"
Technical Drawings Metric (PDF)
Assembly Instructions (PDF)
Insulating Wiring Construction (PDF)
Loading and Unloading (PDF)
FREE STRUCTURAL ENGINEERING – FREE SHIPPING in USA (Except HI & AK) 
Banff is a PREMIUM manufactured cabin using 70mm (2-3/4) thick wall logs with a total footprint of 242″ x 364″ = 612 sq'. The main cabin area is 242″ x 283″ = 475 sq' and the front covered deck is 242″ x 80″ = 134 sq'.  There are 2 bedrooms, bathroom and a small usable loft over the bedrooms with a window for ventilation.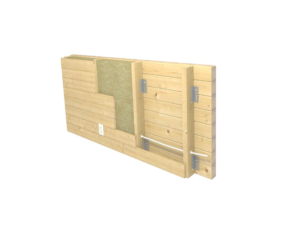 Add 10% to sale price for an insulating kit that includes: metal brackets to mount studs & 3/4″ tongue & groove boards to apply over the studs.
Solid wood walls of 2 3/4″ thick have a thermal mass of R-12 ….. add R-15 insulation and achieve exceptional energy efficiency of R-27.
Tip: Mineral wool  insulation is recommended  for log construction.  It's impervious to moisture with a higher R-value per inch than fiberglass and is considered a GREEN building material, environmentally friendly.
Assembly: This kit can be assembled in 7 days or less with 3 people
Building Codes: This model passes structural requirements for building codes in USA and Canada, and includes Title 24 approval for California. Modifications required for earthquake, heavy snow load regions and hurricane zones are provided with no additional charge
Tip: House wraps & vapor barriers are required in most regions when insulating. Vapor barriers are installed on the warm side of walls, interior of the studs for cold climates and exterior of studs for hot climates
FREE STRUCTURAL ENGINEERING

FREE SHIPPING  in USA (Except HI & AK)

ready to assemble on a concrete slab floor or wood floor at site

(70mm) 2 3/4″ pre-cut numbered exterior walls

(70mm) 2 3/4″ pre-cut numbered interior walls

vaulted/cathedral ceilings

floor joists for loft
1-1/8″ tongue & groove floor boards for loft floor
loft ladder

roof purlins/beams

(18mm) 3/4″ tongue & groove roof boards with fascia boards

PREMIUM multi locking/double glazed wood windows

interior doors c/w hardware/trims 

threaded steel storm rods for perimeter wall junctions
spare wall logs
CALL  1-800-652-1065