Frequently Asked Questions
Where is the company located?
The main sales office is located in Poland, Europe with registered offices in Canada and USA.
Where are EZ Log Structures produced?
Kits are manufactured in Europe and shipped to North America to dealers or direct to the customer.
How long have they been available?
Interlocking building systems have been produced in Europe since the early 1970's. EZ Log Structures were introduced to North America in 2010. Today we have a network of dealers/retailers across Canada and the USA. Larger cabins and homes are sold factory direct to USA consumers where there is no dealer.
Do they meet building codes?
Yes, most kits meet codes without modifications. Should modifications may be required for high wind, heavier snow load, earthquake and hurricane regions, these are usually done at no charge depending on the complexity of the upgrade.
Do I need a building permit?
Urban regions allow decorative sheds/portable buildings up to 100 sq' without a permit and some regions may allow for larger models. Cabins and homes require permits except in unregulated regions. Contact your local building department for regulations.
How do I get engineered drawings?
In-house structural engineered drawings are included with each PREMIUM model over 500 sq", no charge.
What type of wood is used?
The most common wood type of wood used is Nordic/Baltic Spruce (Picea-Abais) and the second type is Baltic Pine (Pinus Sylvestris). Both are soft woods that grow in cold climates in northern Europe.   They are a dense growth tree with 6 to 8 times the growth rings than standard (SPF) spruce, pine or fir. This provides a more stable wood with the Spruce having smaller knots than Pine. Both are easy to mill and lightweight.
Is the wood kiln dried?
Yes, raw materials are kiln dried to 16% moisture content and during handling air-dried to around 14%. This is the required level of moisture to prevent splintering when making cross cuts for joints.
Is there sealer between the logs?
Sealers are not required. The logs have a deep tongue & grove. In larger buildings threaded steel rods or  logs screws are used through the walls to keep the logs tight.
Do the logs shrink?
Yes, all log construction shrinks. Some advantages of this method are consistent sized materials and kiln drying, which allows for calculated shrinkage. Walls shrink approximately 1 ¾" for every 8' of wall height. The building is designed to accommodate shrinkage with larger gaps at the top of rough openings that reduce in size as the building settles. At the end of one year the building will climatize and shrinkage is virtually eliminated, however there is always some small expansion and contraction in wood.
TIP: Windows & doors do not get attached to the logs and float in the rough openings to allow for wall shrinkage. They are held in place by the inner and outer trims sandwiching the logs. After one year they can be fastened permanently.
TIP: Larger cabins and homes have threaded rods at the log junctions.  Before installing the rods the walls should be tightened using ratchet straps. The rods have exposed washers and nuts at the bottom and should be tightened every 60 days as the logs shrink. This maintains constant pressure on the logs and keeps them tight.
Does shrinkage affect cabinets?
Upper cabinets attached to log walls are fastened permanently at the top with a sliding bracket used at the bottom. Back splashes, tiles, etc. must be installed to allow the upper cabinet to lower as the wall height shrinks. If the wall has been insulated on the interior, cabinets mount the same as regular construction and are not affected by shrinkage.
Can anyone assemble them?
Smaller models can be done with minimal construction knowledge, there is virtually no cutting. Larger models have more components and take time to sort to determine the locations. No heavy equipment is required for assembly. Drawings show numbered components, drawings of each part, location, size and quantity. Reviewing plans in advance reduces onsite assembly time. 50% of customers do their own assembly and 50% hire a contractor, yet some construction knowledge is essential. Larger cabins & homes are delivered with the first 2 rows specially packaged. When these are laid on the foundation/floor, it shows room divisions/floor plan making assembly easier.
TIP: The models with interior walls are anchored to the foundation/floor. Before connecting the first 2 rows they must be squared and leveled. Then use a string from outside wall to outside wall and shim the interior rows higher by ¼" in the middle. This compensates for shrinkage between inside and outside walls. (Crown Up)
How do I attach the building to the foundation?
The first two rows are attached to a concrete slab or wood floor using anchors, screws or brackets.
TIP: Place a moisture barrier between the first row of logs and the foundation, for both concrete and wood sub-floors. Building supply retailers offer moisture barriers or asphalt shingles can be used. Flashing can also be used under the first row.
What's the R-value of the logs?
Softwood has an R-Value of 1.4 to 1.6 per inch of thickness. A 70mm / 2 ¾" thick log is R 4.4. However, log construction is rated using THERMAL MASS, the conductivity of heat and cold thru solid wood. Energy Star (USA) & Ener-guide (Canada) are government programs that evaluate the efficiency of various methods of construction. Testing on 70mm/2 ¾" logs resulted in a THERMAL MASS rating of R-12 meaning it heats and cools the same as an R-12 insulated wall.
How are the walls insulated to meet codes?
Interior – studs are installed (no top or bottom plates) to the inside walls using a slotted metal bracket provided. Studs are cut sort of the ceiling to allow for wall shrinkage. Wiring & insulation are installed, and studs are covered with ¾" tongue & groove wall boards to match logs. Interior divisional walls are not insulated.
Exterior – studs and bottom plate are applied to the outside of the walls using a slotted metal bracket, moving the stud away from the wall ½" making the stud flush with log horns. Bottom plate is 100mm 4" x 1.5" is anchored to the bottom log. No top plate required, and studs are cut short to allow for shrinkage. Rough openings for windows and doors are framed to match rough openings in log walls. Windows and doors are then installed from the exterior. Insulation and wiring installed, and studs are covered with the exterior of choice. This allows for choices on the exterior, a wood cabin look or a maintenance free exterior such as vinyl or even stucco.
What's the best insulation to use?
Mineral wool is the recommended insulation for log construction. Mineral wool has a higher R-Value per inch of thickness than fiberglass and mineral wool is not affected by moisture, where fiberglass will deteriorate when it gets wet. It is also considered a green product for construction and has an improved sound barrier and small animals such as mice will not nest in it. Rigid board insulation can be used between studs, but spray foam insulation is not recommended for walls or around windows and doors as this restricts the logs from settling as they shrink. Roofs can be insulated with spray foam or any other insulation required to meet local codes, shrinkage does not affect the roof.
What's the R-Value of insulated walls?
Total R-value is determined by combining the wall insulation + thermal mass rating of the logs, wall cover boards and air spaces. A wall with R-15 mineral wool + R-12 thermal mass of logs = R-27. A wall with high density board insulation of 4" = R24 + R-12 thermal mass of logs = R-36.
Is the wood treated?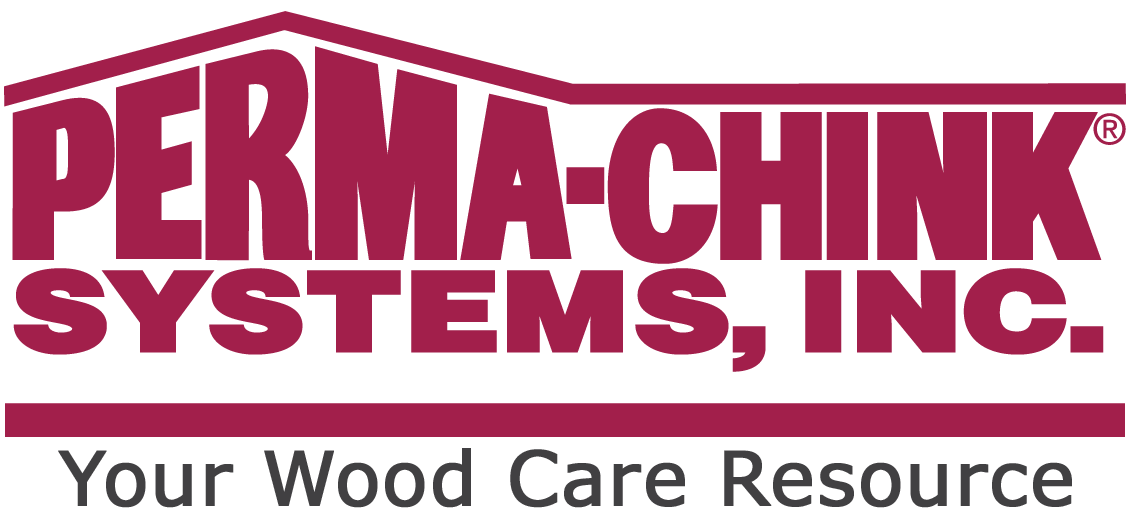 The wood is natural and has no treatments. Apply a clear wood preservative to the logs as soon as possible then apply an impregnating or penetrating sealer stain/ paint. Oil base is superior and brushing on treatments is better than spaying, it helps the stain/paint penetrate the cavities in the wood. Research the material suitable for the local climate. Note: penetrating stains can bleed through the logs and show on the interior.  Find out more from our friends at Perma-chink Systems, Inc.
What's included in a standard kit?
Garden sheds with 1 1/8" up to 1 5/8" thick logs are mass produced and include: treated floor beams, tongue & groove floorboards, precut numbered wall logs, windows, doors, hardware with keys, trims for windows and doors, base boards, precut gable ends, purlins (beams) tongue & groove roof boards, fascia trims.
Cabin & homes with 2 ¾" thick logs are produced at order and include: precut numbered exterior and interior wall logs, exterior premium double glazed windows, doors, hardware with keys, trims, interior doors with hardware and trims, base boards, precut gable ends, purlins (beams) tongue & groove roof boards, fascia trims, threaded rods for junctions.
TIP: To prevent warping of logs, do not open packages until ready to assemble. Keep the package off the ground and cover if to prevent water damage. If a log twists and is difficult to place, set one end and then use a large C-clamp for leverage to twist the log and drop into position.
Do I need a vapor barrier/house wrap?
Vapor barriers and breathable house wraps are only used if a building is being insulated. Log construction must breath for the wood to expand and contract, so these may be required on the interior or exterior depending on the climate. This should be determined by a thermal engineer based on local building codes.
How is the roof insulated?
Roof/ceilings are insulated by building up the exterior on top of the tongue & groove roof boards. The amount of insulation and build up is determined by local code requirements.
Tip: paint or stain the roof boards before installing them on the roof. This will save substantial time and is easier than doing it on ladders or scaffolding later.
How is the electrical wiring installed?
Electrical chases can be pre-drilled in the logs if requested. These chases (holes) are drilled during production at specific positions from the top of the wall to the bottom. Wiring is fed into the chases during assembly. For insulated models wiring is placed in the studs like regular construction. In some regions electrical chases are not allowed and wiring must be surface mounted or hidden behind base and door trims. Ceiling wiring is done from the exterior prior to insulating the roof.
How long does it take to assemble?
Every model is different and depends on skill levels of the assemblers. Some models will show estimated assembly time on their feature page. IE" Toledo E cabin 24' x 40' can be assembled by 3 people in 10 to 12 days, with virtually no waste.
Can I make design changes?
Yes, for Premium models, cabins and homes minor modifications can be made . Floor plans can be modified, roof slopes increased or decreased, windows & doors added, walls increased in height. Decorative garden sheds can not be modified as they are mass produced.
What's the cost to change designs?
Charges will vary depending on the additional material is required.
Can I get custom built models?
Yes, there are very few restrictions with this method of construction. If floor plans or sketches are provided, a quotation can be provided, usually within a few days.
Why are there no closets shown?
When adding closets using the interlocking logs, they are stacked to the ceiling and interlocking with adjoining walls. The use of materials for a closet becomes very high due to the vaulted ceilings. In addition the horns protrude into the connecting room and can be an obstruction. The solution is to frame closets using 2×4's and covering the walls with tongue & groove boards to match the log walls or use a pre-built closet.
What's NOT included with cabin or home kits?
Not included is electrical wiring, plumbing fixtures, cabinets, exterior roof cover, insulation for walls/ceiling, window & door extender kits for insulated walls, foundation and related materials.
Can I have sliding patio doors?
Yes, rough opens can be cut for locally supplied patio or specialty doors. For cabins and homes, it's recommended that entry doors are supplied locally. The price for supplied doors is deducted and rough openings are created to accept the locally supplied doors. This allows installation of storm doors, better selection of styles and hardware, improved security and easy access to replacement parts. Details are provided on how to install local doors for this application.
What's the cost to complete a cabin or home?
Each region has different costs for labor rates, permits, cost of materials etc. Our kits are the most comprehensive log or solid wood kit on the market and a finished cabin or home can be 30% to 50% less than conventional construction.
Can I have an attached garage?
Yes, attached garages must start at the same level as the building its connected with to allow consistent shrinkage between the 2 buildings.
Can I install skylights?
Yes, locally purchased skylights can be installed during or after assembly.
What if there are missing parts?
Garden sheds are mass produced and missing components are extremely rare. Large cabins & homes that are built to order are shipped with spare logs. They come without notches and notched on site using a fine-tooth hand saw.
Can I use my own windows?
Yes, pricing for windows and doors supplied are deducted and rough openings are cut to accept the windows and door being used.
Can I add windows or doors later?
Yes, any single wall model is done by cutting a hole and inserting a window. The window is held in place by the trims sandwiching the logs. No header is required in solid wood walls. Adding windows or doors in an insulated model should be done by a professional contractor.
Can the buildings be moved?
Yes, but not recommended. Smaller models can be moved if plywood is attached to the walls to prevent racking and separating of logs. Larger models must have special attention and only be moved by qualified movers.
Can they be dismantled?
Yes, but not recommended as damage occurs and reassembly is difficult.
Can I attach to an existing building?
Log construction shrinks and attaching to a permanent building does not allow the logs to shrink or settle.
How long does it take to order a building?
Garden sheds can be purchase from dealers who maintain inventory to service their local market. If not in stock the lead time will vary depending on the dealers' next shipment.
Lead times for cabins and homes vary depending on model, production scheduling and delivery location. Confirmation is provided at time of order.
How do I make payment?
Wire transfers or "Letter of Credit" with 50% deposit at order and balance prior to shipping.
Are state taxes charged?
State taxes are not added to invoices for orders within the USA. State taxes are administered by local authorities.
What's the warranty?
EZ Log Structures are warrantied for a period of 5 years, calculated from ship date of the product. The warranty covers: seal failures in glass, hardware, thru splitting of wall logs, and any defective components produced that cannot be used for assembly.
WHAT'S NOT COVERED
Any inherent features of wood such as; checking, warping, twisting, natural color variations in wood, damage or deterioration caused due to lack of sealers or paints. Defects caused by; faulty installation, inadequate foundations, natural drying of wood, knots that do not affect the structure or changes to the structure made by anyone other than the manufacture.
This warranty shall cover the cost of replacement parts only.
For further information call (800) 652-1065