Cabins & Homes
Affordable energy efficient cabins & homes for seasonal or year-round dwellings. Choose one of our existing plans or let us price out your dream cabin or home.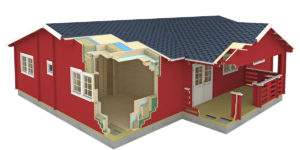 Beautiful, natural wood, milled to create a elegant, smooth interior & exterior. Pre-cut kits delivered & ready to assemble with nearly no waste.  Add an insulating kit & achieve outstanding energy efficiency combining the thermal mass of solid wood with R-value of insulation.
Natural all wood buildings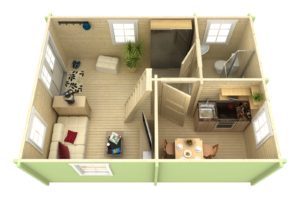 About Us
Tene of Estonia is Europe's leading producer of interlocking building kits. With production capacity exceeding 28,000 cabins annually, we offer the best quality, selection and lead times worldwide. To ensure prompt delivery an inventory of over 1500 pre-packaged buildings are ready to ship on demand. Each building is manufactured using kiln dried northern spruce, considered one of the most stable woods for log construction. All trees are harvested from ecologically managed forests in Estonia and the surrounding regions.
EZ Log Structures are manufactured in Europe and introduced to North America in 2011. This unique method of construction, using numbered components, stacks and does not require extensive construction skills to assemble.  Applications are almost endless, garden shed, cabins and homes. EZ Log Structures has become a trusted brand that consistently provides a quality product. 

EZ Log Structures offers a wide selection of building kits from small decorative garden sheds ideal for swimming pool & hot tub change rooms, bunkies, outdoor dining, study rooms, tiny housing, work shops, in-law suites. The larger cabins and homes can be used year-round and can be insulated to meet any building codes, even in extreme climates.
Distribution centers
Kentucky – USA        Ontario – Canada