SALE PRICING VALID TO DECEMBER 31, 2022
FREE SHIPPING – SOME EXCEPTIONS MAY APPLY
The Baltimore 1 is a solid wood home using 68/70mm (2-5/5″/2-3/4″) thick wall logs. This model is 1245 sq' with 4 bedrooms, large open living space & vaulted ceilings throughout. It has premium residential grade wood windows. Home is delivered to site & ready to assemble on a concrete slab or wood sub floor.
Insulating walls: Combine R-15 mineral wool insulation with the solid log wall to achieve exceptional comfort & energy efficiency of R-20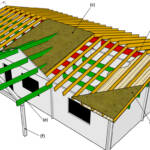 Insulating the roof:  Using local materials rafters are installed over the supplied tongue & groove roof boards. The size of rafters will depend on the R-value required to meet local codes. High density spray foam provides the highest R-value for thickness & makes the roof  water proof.
Tip: Mineral wool  insulation is recommended for walls. It's impervious to moisture, has a higher R-value per inch than fiberglass, reduces noise levels, is rodent & pest resistant plus it's an environmentally friendly.
The Baltimore 1 can be assembled in 12 days with 3 people & passes structural requirements for building codes. Minor modifications may be required for earthquake, heavy snow load regions or hurricane zones
Kit includes:
no floor ready to assemble on a concrete slab, wood floor over piers, crawl space or basement
pre-cut, numbered exterior walls
pre-cut, numbered interior walls
pre-cut, numbered gable components
vaulted, cathedral ceilings
pre-cut, numbered roof purlins, beams
pre-cut, numbered (18mm) +or- 3/4″ tongue & groove roof boards
pre-cut, numbered fascia boards
prebuilt sectional deck railings, vertical balustrades, handrail, adjustable posts
PREMIUM wood windows c/w hardware & trims
wood entry doors, locks, deadbolts, keys, trims
interior doors, hardware, trims
log screws or threaded rods
2 spare wall logs/spare roof boards