PREMIUM models are available in sizes offered or custom sizes. They are manufactured using the thickest wall of 70mm (2-3/4).  Premium  models are offered without floors, ready to mount on a concrete slab or wood sub floor. (soft wood tongue & groove floors are available on request) The windows are premium grade, double glazed, double weatherstripped with heavy duty multi locking tilt and turn openers. Doors have double glazed glass and include mortised locks, deadbolts with keys. Multi room models include interior walls with solid core wood interior doors, hardware and keys. Threaded steel rods are included for wall junctions to secure walls.
Premium models can be insulated on the interior or exterior depending on the model. Single walls of 2-3/4″ have a thermal mass rating of R-12 ideal for 3 season use. To meet residential building codes use upgrade insulating kits for 10% of the selling price.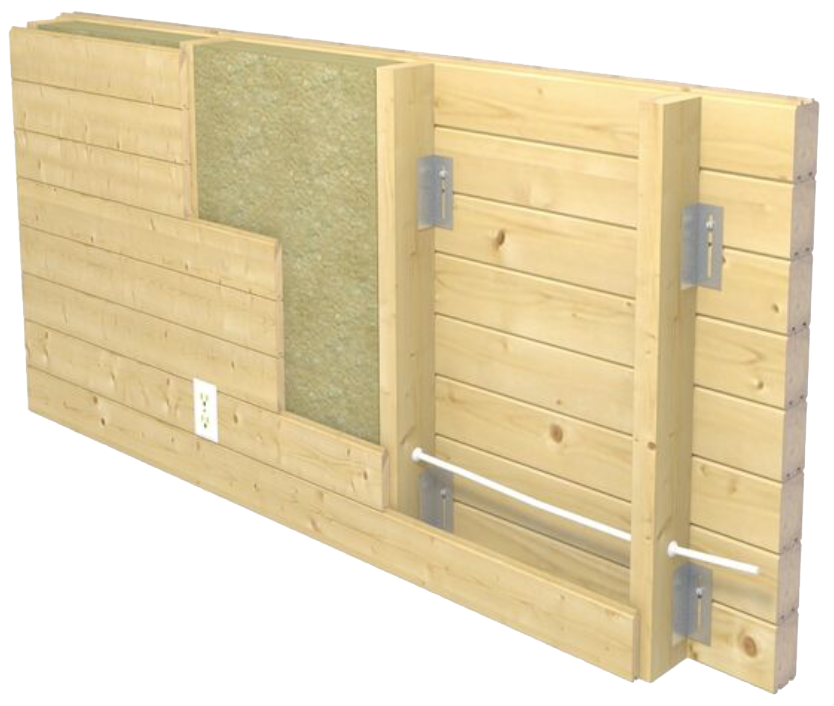 Thermal mass of R-12 + R-15 insulation = R-27 minimum
Temagami is a complex lofted model with loft ladder and railings. There are  overhangs on the front and rear of the building to maximize loft space but use a small footprint. It's design allows assembly in most areas without a permit.  Add a front deck, insulate the roof and floor, and add a wall mounted HVAC heating/cooling system for complete comfort.
The model can be assembled in 3 days by 2 people.
SHIPPING PRICES BASED ON DELIVERY LOCATION.
Kit includes:
IN-HOUSE STRUCTURAL ENGINEERING

Without floor ready to mount on slab or wood sub floor

(70mm) 2-3/4″ pre-cut numbered exterior walls

vaulted ceilings

roof purlins

tongue & groove ceiling/roof boards

fascia trims

loft floor beams
1-1/8″ T&G floor boards,
loft ladder  & railings
PREMIUM double glazed wood windows

entry doors c/w locks, deadbolts, keys

window & door trims

threaded steel storm rods at junctions