Nova
152,763.00 CAD
Cabin size

48.6' x 36.5"

Area

1735 ft2

Roof pitch

2/12

Roof boards

3/4"
Assembly Instructions (PDF)
Insulating Wiring Construction (PDF)
Loading and Unloading (PDF)
FREE SHIPPING – SOME EXCEPTIONS MAY APPLY
Sale price valid to August 31, 2023
(NOTE: sale pricing on this model is subject to change without notice)
The Nova is a solid wood home using 70mm (2-3/4″) thick wall logs.  This 1775 sq' modern design has a flat sloped two level roof, 4 bedrooms, 2 bathrooms. The master bedroom includes walk-in closet with a master bath, there is a utility room plus a large open living area and an attached garage. The vaulted ceilings throughout provide a very open concept.  This model is delivered to site and ready to assemble on a concrete slab or wood sub floor.
ASK about structural engineering options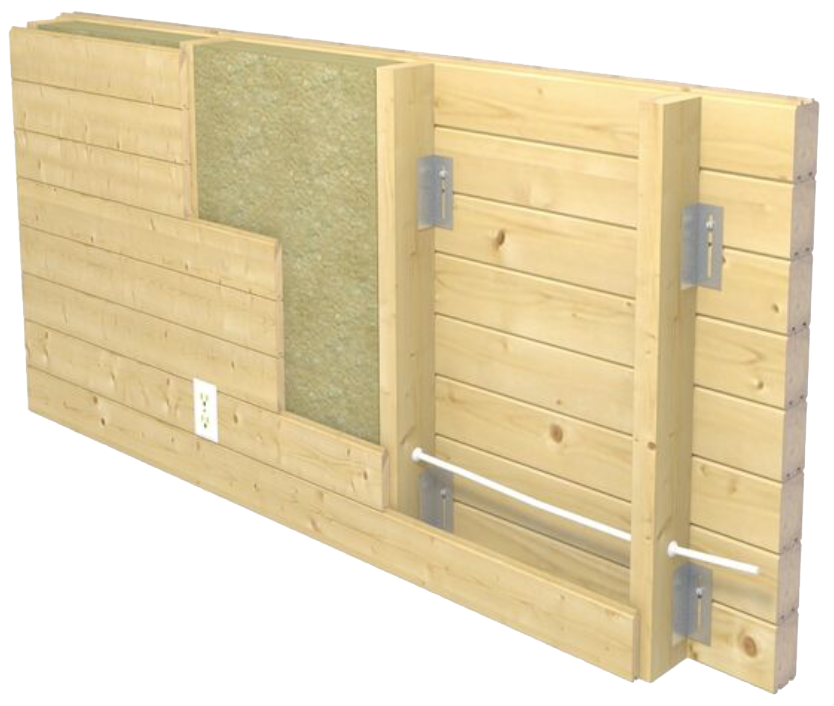 Insulating kit add 10% – includes stud brackets with 3/4″ T&G wall cover boards
Tip: Mineral wool  insulation is recommended  for log construction.  It's impervious to moisture with a higher R-value per inch than fiberglass and is considered a GREEN building material, environmentally friendly insulation
The Nova can be assembled in 15 days with 4 people and passes structural requirements for building codes. Modifications may be required for earthquake, heavy snow load regions and hurricane zones.
Kit includes:

FREE SHIPPING in USA (Except HI & AK)

ASK about structural engineering options
no floor ready to assemble on a concrete slab, wood floor over piers, crawl space or basement
pre-cut, numbered exterior walls
pre-cut, numbered interior walls
pre-cut, numbered gable components
vaulted, cathedral ceilings
pre-cut, numbered roof purlins, beams
pre-cut, numbered (18mm) 3/4″ tongue & groove roof boards
pre-cut, numbered fascia boards
prebuilt sectional deck railings, vertical balustrades, handrail, adjustable posts
PREMIUM multi locking double glazed wood windows, trims
entry doors, locks, deadbolts, keys, trims
interior doors, hardware, trims
rough opening for locally supplied overhead garage door
threaded steel storm rods for perimeter wall junctions
2 spare wall logs/spare roof boards
CALL 800-652-1065