Sequoia
86,939.00 USD
102,280.00 CAD
Cabin size

288" x 480"

Area

960 ft2

Roof boards

3/4"

Wall height

125" - 97"
Technical Drawings Metric (PDF)
Assembly Instructions (PDF)
Insulating Wiring Construction (PDF)
Loading and Unloading (PDF)
FREE SHIPPING – SOME EXCEPTIONS MAY APPLY
FREE IN-HOUSE STRUCTURAL ENGINEERING
The Sequoia is a modern sloped roof with a footprint is 24′ x 40′, (960 sq') with an open living room, kitchen, 3 bedrooms,  2 bath plus utility room. The ceiling height is 10'5″  tapering down to 8′ at the back, creating an angled vaulted ceiling. Home is delivered to site and ready to assemble on a concrete slab or wood sub floor.  Includes exterior & interior walls, windows & doors with hardware and mortised locks, deadbolts & keys plus interior doors with hardware and trims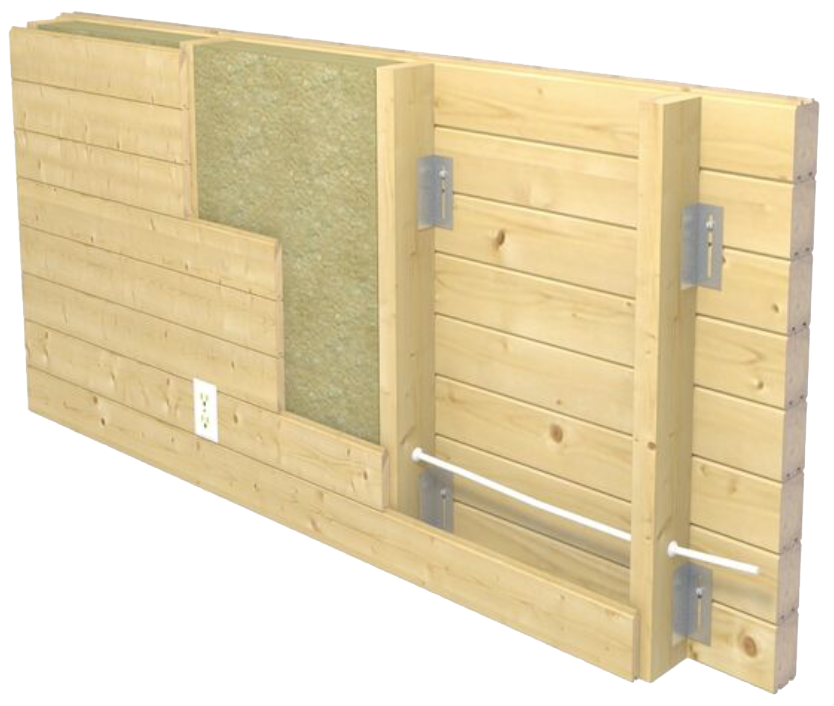 The Sequoia can be insulated using  metal brackets to mount 2×4 studs on the interior or exterior. Insulating kit add 10% to the building kit price.
Tip: Board insulation can be installed between studs, apply stucco wire and stucco over the studs. High density board insulation has an R-value of 6 per" =  R-24 plus the thermal mass rating for the 2 3/4″ log of R-12 = R-36
Tip:  Mount studs with a 1/2″ space between studs and logs to feed electrical wiring, no drilling required
Tip: Skylights can be added to increase lighting
The Sequoia can be assembled in 10 days with 3 people and passes structural requirements for building codes. Modifications may be required for earthquake, heavy snow load regions and hurricane zones.
Kit includes:

IN-HOUSE STRUCTURAL ENGINEERING

FREE SHIPPING  in USA (Except HI & AK)

ready to mount on slab or wood sub floor

(70mm) 2 3/4″ pre-cut numbered exterior walls

(70mm) 2 3/4″ pre-cut numbered interior walls

vaulted ceilings

roof purlins (beams)

tongue & groove roof boards

fascia trims

PREMIUM double glazed wood windows

entry doors c/w locks, deadbolts, keys

window & door trims

interior doors c/w hardware 

threaded steel storm rods for perimeter wall junctions
CALL 800-652-1065