Toledo E Lofted
77,357.00 CAD
Cabin size

288" x 480"

Area

960 ft2

Roof pitch

4-12

Roof boards

3/4"

Attic

56" Loft

Wall height

99"

Ridge height

141"
Technical Drawings Imperial (PDF)
Technical Drawings Metric (PDF)
Assembly Instructions (PDF)
Insulating Wiring Construction (PDF)
FREE SHIPPING – SOME EXCEPTIONS MAY APPLY
FREE IN-HOUSE STRUCTURAL ENGINEERING
TOLEDO E Premium has 68mm (2-5/8″) wall logs and is an affordable cabin or home with a footprint is 24′ x 40′ (960 sq'). The interior is 24′ x 34′ with a covered deck of 24′ x 6′. Main living room has vaulted ceilings,  utility room, bathroom and 2 bedrooms with a loft of 280 sq'. Kit includes: exterior & interior walls, 4/12 roof pitch with vaulted ceilings, roof beams, T&G roof boards, mid grade wood windows, entry doors, interior walls, interior doors, loft floor beams, 3/4″ loft floor boards, loft ladder plus hardware with keys, deck railings are prebuilt for easy installation.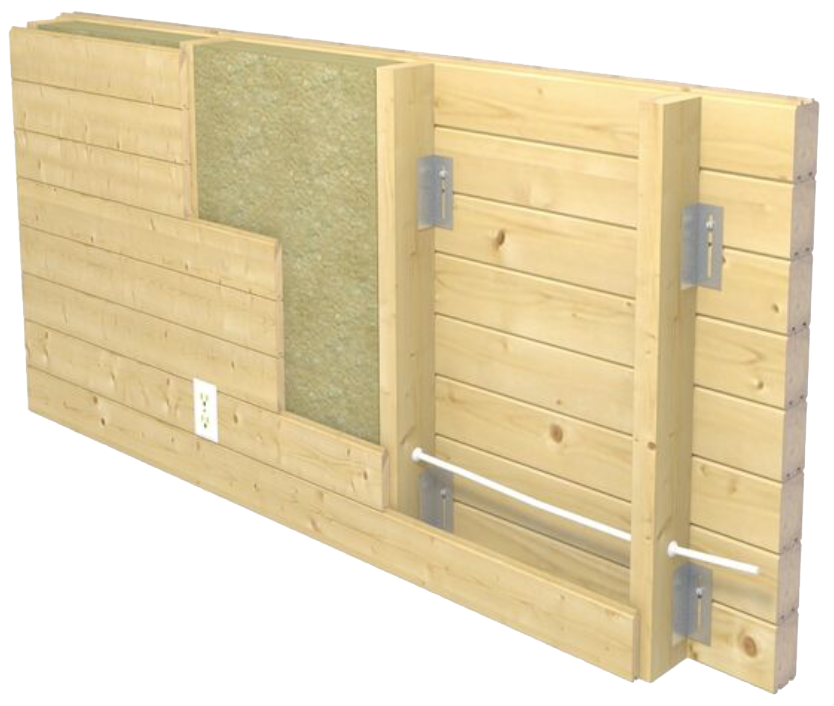 Wall insulating kit: includes metal brackets & 3/4″ tongue & groove wall cover boards made of matching wood.  Install studs using the brackets and then apply the interior wall cover boards over the studs. Add 10% to the selling price.
Exceptional energy efficiency:  solid wood walls have a tested thermal mass rating of R-12 and add R-15 mineral wool insulation to achieve R-27 in the walls
PVC window upgrade add 12%  PVC oak woodgrain, double glazed LOW-E maintenance free windows are available with select models. These unique windows come with an exterior rolling shutter that is controlled from the interior, providing added security, improved insulating qualities, reduced noise & complete darkness for extended sleeping. (view the window video on our VIDEO section)
Tip: Mineral wool  insulation is recommended for log construction. It's impervious to moisture with a higher R-value per inch than fiberglass, reduces noise levels & is environmentally friendly
Insulating the roof: This is done using locally supplied materials over the supplied tongue & groove roof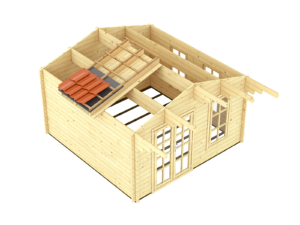 boards. Build up to the required depth to house insulation and install metal roofing or shingles. High density spray foam provides maximum benefits,  highest R-value for thickness & is water proof
Assembly: total weight is approx. 18,636 lbs. The kit is ready to assemble on a wood floor or concrete slab and can be assembled in 10 days or less with 3 people
Building Codes: This model passes structural requirements for building codes in USA and Canada, and Title 24 for California. Modifications may be required for earthquake, heavy snow load regions and hurricane zones for a small upcharge
Tip: House wraps & vapor barriers are required in most regions when insulating. Vapor barriers are installed on the warm side of walls, interior of the studs for cold climates and exterior of studs for hot climates
Structural Engineering: Kit includes in-house structural engineering, some regions may require a local engineer to stamp drawings
Kit includes:

IN-HOUSE STRUCTURAL ENGINEERING

FREE SHIPPING  in USA (Except HI & AK)

no floor ready to assemble on a concrete slab, wood floor over piers, crawl space or basement
pre-cut, numbered exterior walls
pre-cut, numbered interior walls
pre-cut, numbered gable components
vaulted, cathedral ceilings
pre-cut, numbered roof purlins, beams
pre-cut, numbered (18mm) 3/4″ tongue & groove roof boards
pre-cut, numbered loft floor beams
pre-cut, numbered 28mm (1-1/8′) tongue & groove loft floor boards
loft ladder
pre-cut, numbered fascia boards
prebuilt sectional deck railings, vertical balustrades, handrail, adjustable posts
mid grade multi locking double glazed wood windows, trims
entry doors, locks, deadbolts, keys, trims
interior doors, hardware, trims
2 spare wall logs, spare roof boards
log screws
CALL 800-652-1065